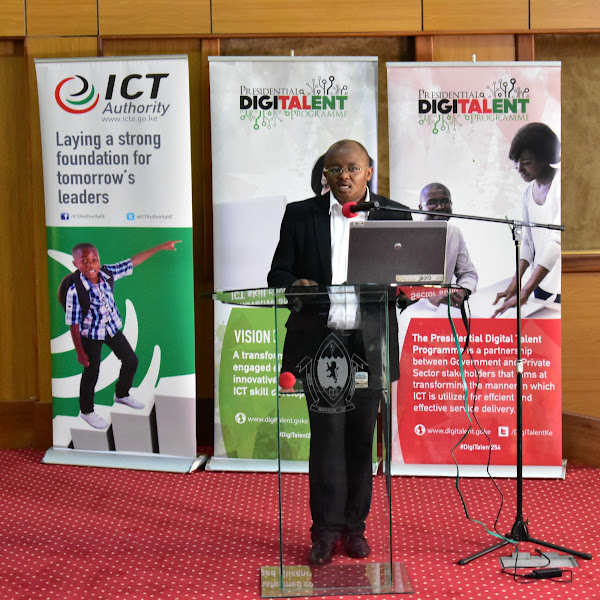 We offer high quality service in Digital Assessments, Business Development, ICT Regulation Training, Project Management, Technology Research and Analysis, Broadcast Technology solutions, Mobile Tech solutions, Digital Agency, Social Listening and new media.
We are led by a recipient of various industry Awards and Fellowships including CIO100 East Africa Hall of Fame in 2019 the ICT Leadership Award 2015 by the ICT Association of Kenya (ICTAK) at the ICT Value Awards in Nairobi; CIO of the Year 2013 at the CIO100 Awards 2013 in Kigali, Rwanda, ICT Manager of the Year 2011 - Kenya ICT Excellence Awards 2011 by Computer Society of Kenya, Social Media Excellence Award 2015 at the ICT Value Awards 2015 and Highway Africa Fellowship to attend the ICT & Media training at Rhodes University, South Africa in 2009.
He was the President of the Internet Society (ISOC) Kenya Chapter 2018 - 2020, former Trustee of the Internet Society (ISOC) Kenya Chapter, former Chairman of the Assembly of Broadcasting Operators of the East Africa Communications Organisation (EACO) among others industry advisory roles. Wainaina is renowned for innovative projects such as BungeSMS, Kazi560/Mobile for Good, FixMyWard and award winning IT service management
Led FixMyWard to win the Social Media Excellence Award 2015 at the ICT Value Awards for the use of ICT in citizen engagement
Trained in ICT and regulation
Citations of our research
Wainaina is smart, conscientious and enthusiastic professional. He beat out intense completion to get appointed and was a great fit for the role and all the challenges it entailed. I greatly enjoyed working with Wainaina and have no hesitation recommending him based on my experience working with him at Oneworld. He is pioneering and entrepreneurial and I am proud of what we as team achieved on the mobile content project in Kenya.
Mobile Content to Change Lives Project
:
Concept development and project implementation of the channel for delivering life-changing information via mobile phones.
Wainaina and I worked together on projects related to ICT in Kenya, my area of expertise. Wainaina has many wonderful qualities. He is punctual, affable, and hard working. He is a strong writer, and a thoughtful analyst.
I would recommend him highly for any position requiring intellectual or analytical work, as well as research fieldwork.
∙ Co-authored
"Uchaguzi: A Qualitative and Quantitative Analysis of ICTs, Statebuilding, and Peacebuilding in Kenya
"
by University of Pennsylvania Center for Global Communication Studies, 2015
∙ Carried out an Evaluation of the Pasha Centres (Digital Village) project by the ICT Authority
Working with Wainaina has a been a joy since he joined the RMS family. he has shown innovation attention to detail and worked under some difficult conditions to make ICT in the office environment fun. His approach pretty much an open one, to resolving issues that many have found a bottle neck has created a friendly, easy to approach attitude to change development within the organisation.
He has dared to go where many would have not and this has improved services and efficiency across the various Radio (14 stations) and TV platforms in the organization.